A GUIDE TO CREATING YOUR CUSTOM ACTION PLAN
In our guide, we start by exploring key future of work disruptors then offer a framework for a better understanding the impact of these disruptors on your business.
Understanding the compounding effect of the disruptors allows you to more easily identify actions to prepare for, and potentially even influence, the future.
Download the guide to start creating an action plan for your business.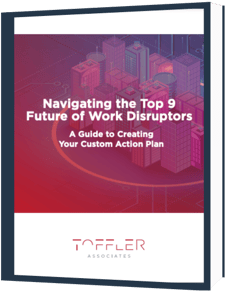 We Are Future-Focused
Toffler Associates brings cross-industry experience and a cross-functional methodology that gets beneath the surface of a complex issue to clarify the strategic issues in play.
26 Years of Applying Futures
50+ Years of Insights & Learnings
1000+SME Interviews Per Year
Build Resilience & Create Value
Toffler Associates is a futures-focused strategy consulting firm that brings cross-industry experience together with a cross-functional methodology to clarify complex issues. We build resilience and create value in a world where change is accelerating at an unprecedented pace.
By seeking to understand the unique challenges a business faces, we are able to help develop custom strategies to help them move forward with greater resilience and clarity.